Testimonials from Happy Clients
Great service from Sandy Schiel, Realtor
Sandy Schiel's service was excellent when we sold my Mom's condo. She had very good insight into the market and ideas to bring the property to market, listing price, how to show the property, etc. She was responsive to multiple family members, most especially, my Mom. Sandy listened and came back with thorough answers and why she would recommend a certain direction. Absolutely great experience!
~ Beth Atkins (Seller) on 6 Aug 2021
See more 5-STAR Testimonials at RATEMYAGENT
"Sandy helped us sell our home. She was amazing throughout the entire process and really cares about her clients. Not only did she get us an offer within days but it was for over asking and closed in two weeks. Her attention to detail and keeping everything on track was amazing. I would refer her to anyone I know."
~Andy C.
"With the scariest real estate market in many, many years (Covid), we spent a good amount of time understanding the pre-listing strategy of the top realtors in the Lone Tree market. What we found was that Sandy had already formulated a strategy on how we could maximize the market conditions to our favor while minimizing the amount of time and touches to our home. Exactly what we wanted! What we got was a first 24 hours full cash offer that set the record our neighborhood! And we closed without a hitch to two great new neighbors for our cul-de-sac. All in all, a true '10' experience."
~Pete (former Terra Ridge Board member) and Chyrisse
"Sandy was fantastic from start to finish. Working with her was a stress free pleasure. She is very knowledgeable and her communication with us was excellent, always very quick to respond with much patience to every question we had. We cannot say enough positive things about her, she gets the highest possible recommendation we can give!" ~ Mark & Rose
"My mother recently sold her single family home and bought a townhome with Sandy Schiel. Moving is almost always a stressful experience, but Sandy's professionalism, expertise, and knowledge of the market gave us confidence in placing our trust in her. She gave us expert guidance and advice at every step, and she handled every detail and challenge throughout the entire process with confidence, professionalism and grace. My mom is now happily settling into her new home and we couldn't be more grateful to have had Sandy working closely alongside us every step of the way. I would highly recommend Sandy to anyone who is buying or selling a home." ~Linda B.

"Sandy was so on top of everything! She definitely went the extra mile. I was out of town but watching homes. She would go and face time me so I could see the walk thru on various homes. It was such a help! She even would drive through the neighborhoods and take videos for me. She did an awesome job negotiating with the other realtor and really went to bat for me. I would definitely recommend Sandy. She knows the neighborhoods and gives honest opinions on them and that is what you need!"
~Janet S. (New Homeowner in Centennial)
"Sandy is an absolute joy! She helped us find the perfect home for our family with professionalism and patience. She spent countless hours touring us through numerous houses and answered all of our many questions with knowledge and grace. Once we found the house we liked, she worked diligently on our behalf with the seller's agent to accommodate our requests. Throughout the entire house search and purchase process she demonstrated expertise and focused attention to us. We highly recommend Sandy Schiel as your five star Realtor!"
~Rob & Sally (New homeowners in Castle Rock)
"Sandy was a pro from start to finish. She worked hard to find answers to all of our questions regarding the property. We were pleased with the entire process and would encourage anyone looking for a great agent to use Sandy!"
~Amy & Dave (New homeowners in Lone Tree)
"We interviewed four realtors and chose Sandy for her depth of knowledge and experience in our area and for her commitment to our community.  Once selected, Sandy immediately went to work, keeping her word throughout, that her "clients come first."  Her marketing materials were of the highest quality, incorporating some new tactics that were above and beyond.  Showings began on a Friday.  By Saturday morning, we had an offer, and by Saturday night we had a contract over list price.  We understand our home sold for the second highest price per square foot in our neighborhood over the last year.  From listing to close took only five weeks.  Amazing results!  We appreciate Sandy's guidance and gladly recommend her. "
~Kari & Todd (Home sellers in Lone Tree)
She did an excellent job. She was very professional. We would recommend her to anyone!
~Dave and Barb G., (Seller in Aurora)

Sandy, Thank you just isn't Enough!  You're the Best! Don and I appreciate everything you did to make our home sale go smoothly.  You are an Amazing Lady!
Thank you,

Diane (Sold a home in Terra Ridge, Lone Tree)
"I have known Sandy as a great neighbor for over 17 years. She has also handled real estate transactions for me through trusts that I manage for clients. Her thoroughness, integrity, business savvy, and marketing acumen are unmatched. If you need to buy or sell a property, I highly recommend that you give Sandy a call."
~Robert B. (Multiple transactions in South area)
"Sandy is always helpful and patient. I am a first time seller and had a lot of questions that she happily answered. Weekends for her don't really exist; she just comes to the rescue whenever you need her. Thank you, Sandy!!" ~ Holly P.

"Sandy has a truly in depth understanding of our local real estate market in Lone Tree/South Denver. She provided us with excellent advice when considering our new home purchase, highly recommended!"

~Brad Henderson
Lone Tree, CO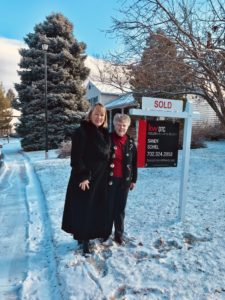 More testimonials can be found on the next page.